G. A. Henty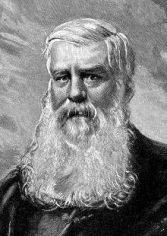 George Alfred Henty (8 December 1832 - 16 November 1902), referred to as G. A. Henty, was a prolific English novelist, special correspondent, and Imperialist. He is best known for his historical adventure stories that were popular in the late 19th century.
G.A. Henty was born in Trumpington, near Cambridge. As a sickly child, he spent long periods in bed. During these illnesses he became an avid reader and developed a wide range of interests which he carried into adulthood. He volunteered for the Army Hospital when the Crimean War began. He was sent to the Crimea where he witnessed the appalling conditions under which the British soldier had to fight. His letters home were filled with vivid descriptions of what he saw. His father was impressed by his letters and sent them to The Morning Advertiser newspaper which printed them.
This initial writing success was a factor in Henty's later decision to accept the offer to become a Special Correspondent, then the name for writers now better known as War Correspondents. He went on to cover the Austro-Italian War, the 1868 British punitive expedition to Abyssinia, the Franco-Prussian War, the Ashanti War, the Carlist Rebellion in Spain and the Turco-Serbian War. He also witnessed the opening of the Suez Canal and travelled to Palestine, Russia and India.
Henty once related in an interview how his storytelling skills grew out of tales told after dinner to his children. He wrote his first children's book, Out on the Pampas, in 1868. While most of the 120+ books he wrote were for children, he also wrote adult novels, non-fiction such as The March to Magdala and Those Other Animals, short stories for the likes of The Boy's Own Paper. He edited the Union Jack, a weekly boy's magazine.
His novels typically revolved around a boy or young man living in troubled times. These ranged from the Punic War to the more recent conflicts of the Napoleonic Wars or the American Civil War. Henty's heroes -- which occasionally did include young ladies -- are uniformly intelligent, courageous, honest and resourceful with plenty of 'pluck'. Yet they are modest. These virtues make Henty's novels popular today among many Christians and homeschoolers. [
Source:
Wikipedia
] More:
The Henty Society
Title
Rank
Period
Level
Type

The Cat of Bubastes by G. A. Henty
A young Egyptian accidentally kills a sacred cat and must flee from an angry mob. Set in 1250 B.C., the time of Moses, this thrilling... [More]
Ancient
before 500BC
Middle
Historical
Fiction

The Dragon and the Raven by G. A. Henty
King Alfred's battles with the Danish invaders of England. Historically accurate; reproduces the faith and concerns of the era. [More]
Middle Ages
600-1300
Middle
Historical
Fiction

Wulf the Saxon by G. A. Henty
Historical novel, set at the time of William the Conqueror and the Battle of Hastings (1066). The Preface begins: " Although the immediate... [More]
Middle Ages
600-1300
Middle
Historical
Fiction

Winning His Spurs by G. A. Henty
An English boy serves in King Richard's army as a knight. Conflict between the Saxons, the Normans, French, Germans; Detailed descriptions of time, place and depth of characters make this another triumph for Henty. [More]
Middle Ages
600-1300
Middle
Historical
Fiction

In Freedom's Cause by G. A. Henty
At the end of the 13th century, the oppressed Scots rebelled against England under the leadership of William Wallace and Robert Bruce. This... [More]
Middle Ages
600-1300
Middle
Historical
Fiction

By Right of Conquest by G. A. Henty
Stranded in a strange land, Roger is found by natives and eventually meets Spanish explorer Hernando Cortez, who conquers Mexico with a small band of loyal men. [More]
Discovery/
Colonial
Middle
Historical
Fiction

With Lee in Virginia by G. A. Henty
The Civil War through the eyes of a Southern teenager who staunchly supports the rights of slaves but joins Lee's cavalry and fights for the Confederacy. [More]
1800's
Middle
Historical
Fiction

Young Carthaginian by G. A. Henty
Set in ancient times, during the Punic wars, this story follows the adventures of young Malchus, an officer in Hannibal's army. Henty... [More]
Ancient to
Classic
Middle
Historical
Fiction

Beric the Briton by G. A. Henty
G A Henty was a 19th century novelist, special correspondent and Imperialist. His best-known works are historical adventures. The Britons... [More]
Classical
500BC-600AD
Middle
Historical
Fiction

For the Temple by G. A. Henty
This tale follows the adventures of John of Gamala during the years of Roman occupation, political infighting, and lawlessness that... [More]
Classical
500BC-600AD
Middle
Historical
Fiction

The Lion of St. Mark by G. A. Henty
Unedited, unabridged, original format editions with original colored cover art, these Henty books reproduce the original in careful detail.... [More]
Middle Ages
600-1300
Middle
Historical
Fiction

A Knight of the White Cross by G. A. Henty
Young Gervaise Tresham leaves England and the turmoil of the Wars of the Roses to become a Knight of St. John. Starting as a page of the... [More]
Renaissance/
Reformation
Middle
Historical
Fiction
St. Bartholomew's Eve by G. A. Henty
Unedited, unabridged, original format editions with original colored cover art, these Henty books reproduce the original in careful detail.... [More]
Renaissance/
Reformation
Middle
Historical
Fiction
By Pike and Dyke by G. A. Henty
In this story Mr. Henty traces the adventures and brave deeds of an English boy in the household of the ablest man of his age --- William... [More]
Renaissance/
Reformation
Middle
Historical
Fiction
The Lion of the North by G. A. Henty
Unedited, unabridged, original format editions with original colored cover art, these Henty books reproduce the original in careful detail.... [More]
Discovery/
Colonial
Middle
Historical
Fiction
Won by the Sword by G. A. Henty
Unedited, unabridged, original format editions with original colored cover art, these Henty books reproduce the original in careful detail.... [More]
Discovery/
Colonial
Middle
Historical
Fiction
Bonnie Prince Charlie by G. A. Henty
It was a dull evening in the month of September, 1728. The apprentices had closed and barred the shutters and the day's work was... [More]
Discovery/
Colonial
Middle
Historical
Fiction
With Wolfe in Canada by G. A. Henty
Complete and unabridged audio recording of the G. A. Henty novel of the same title. Setting: AD 1750's and 60's —... [More]
Discovery/
Colonial
Middle
Historical
Fiction
In the Reign of Terror by G. A. Henty
Unedited, unabridged, original format editions with original colored cover art, these Henty books reproduce the original in careful detail.... [More]
Discovery/
Colonial
Middle
Historical
Fiction
The Dash for Khartoum by G. A. Henty
Unedited, unabridged, original format editions with original colored cover art, these Henty books reproduce the original in careful detail.... [More]
1800's
Middle
Historical
Fiction
St. George for England by G. A. Henty
George Alfred Henty (1832-1902), referred to as G. A. Henty, was a prolific English novelist, special correspondent, and Imperialist born... [More]
Middle Ages
600-1300
Middle
Historical
Fiction
Under Drake's Flag by G. A. Henty
From the "Prince of Storytellers," an exciting account of life on the high seas as seen through the eyes of young Ned Hearne. The brave... [More]
Renaissance/
Reformation
Middle
Historical
Fiction
In the Heart of the Rockies by G. A. Henty
In 1860, 16-year-old Tom Wade leaves England for the American Far West to improve his family fortunes. Arriving at the small western... [More]
1800's
Middle
Historical
Fiction
In Freedom's Cause: A Story of Wallace and Bruce by G. A. Henty
At the end of the 13th century, the oppressed Scots rebelled against England under the leadership of William Wallace and Robert Bruce. This... [More]
Middle Ages
600-1300
Middle
Historical
Fiction
Friends though Divided by G. A. Henty
Fast-paced tale set in the English Civil War of the 1640's [More]
Discovery/
Colonial
Middle
Historical
Fiction
True to the Old Flag by G. A. Henty
I bought this expecting a Patriotic American story. I should have known that Henty would write from a more British perspective. He does a... [More]
Discovery/
Colonial
Middle
Historical
Fiction
With Clive in India by G. A. Henty
The period between the landing of Clive as a young writer in India and the close of his career was critical and eventful in the extreme. At... [More]
Discovery/
Colonial
Middle
Historical
Fiction
The Tiger of Mysore by G. A. Henty
Discovery/
Colonial
Middle
Historical
Fiction
For Name and Fame by G. A. Henty
My poor pets! a lady exclaimed, sorrowfully; "it is too bad. They all knew me so well; and ran to meet me, when they saw me coming; and... [More]
1800's
Middle
Historical
Fiction
At Agincourt by G. A. Henty
The long and bloody feud between the houses of Orleans and Burgundy—which for many years devastated France, caused a prodigious... [More]
Renaissance/
Reformation
Middle
Historical
Fiction
When London Burned by G. A. Henty
Sir Aubrey Shenstone had not been a good father in any sense of the word. He had not been harsh or cruel, but he had altogether neglected... [More]
Discovery/
Colonial
Middle
Historical
Fiction
In the Hands of the Malays by G. A. Henty
Unedited, unabridged, original format editions with original colored cover art, these Henty books reproduce the original in careful detail.... [More]
Discovery/
Colonial
Middle
Historical
Fiction
Orange and Green by G. A. Henty
G. A. Henty was a 19th century novelist, special correspondent and Imperialist. His best-known works are historical adventures. While most... [More]
Discovery/
Colonial
Middle
Historical
Fiction
A Jacobite Exile by G. A. Henty
G A Henty was a 19th century novelist, special correspondent and Imperalist. His best-known works are historical adventures. This... [More]
Discovery/
Colonial
Middle
Historical
Fiction
The Bravest of the Brave by G. A. Henty
Many of the earliest books, particularly those dating back to the 1900s and before, are now extremely scarce and increasingly expensive. We... [More]
Discovery/
Colonial
Middle
Historical
Fiction
In the Irish Brigade by G. A. Henty
Historical novel, set in the early 18th century. From the Preface: "For records of the doings of some of the regiments of the Irish... [More]
Discovery/
Colonial
Middle
Historical
Fiction
Held Fast for England by G. A. Henty
Unedited, unabridged, original format editions with original colored cover art, these Henty books reproduce the original in careful detail.... [More]
Discovery/
Colonial
Middle
Historical
Fiction
By Conduct and Courage by G. A. Henty
Unedited, unabridged, original format editions with original colored cover art, these Henty books reproduce the original in careful detail.... [More]
Discovery/
Colonial
Middle
Historical
Fiction
No Surrender by G. A. Henty
Unedited, unabridged, original format editions with original colored cover art, these Henty books reproduce the original in careful detail.... [More]
Discovery/
Colonial
Middle
Historical
Fiction
At Aboukir and Acre by G. A. Henty
George Alfred Henty (1832-1902), referred to as G. A. Henty, was a prolific English novelist, special correspondent, and Imperialist born... [More]
Discovery/
Colonial
Middle
Historical
Fiction
At the Point of the Bayonet by G. A. Henty
Unedited, unabridged, original format editions with original colored cover art, these Henty books reproduce the original in careful detail.... [More]
Discovery/
Colonial
Middle
Historical
Fiction
Condemned as a Nihilist by G. A. Henty
Unedited, unabridged, original format editions with original colored cover art, these Henty books reproduce the original in careful detail.... [More]
1800's
Middle
Historical
Fiction
Through the Fray by G. A. Henty
The beginning of the present century, glorious as it was for British arms abroad, was a dark time to those who lived by their daily labor... [More]
1800's
Middle
Historical
Fiction
The Young Buglers by G. A. Henty
George Alfred Henty (1832-1902), referred to as G. A. Henty, was a prolific English novelist, special correspondent, and Imperialist born... [More]
1800's
Middle
Historical
Fiction
Under Wellington's Command by G. A. Henty
Unedited, unabridged, original format editions with original colored cover art, these Henty books reproduce the original in careful detail.... [More]
1800's
Middle
Historical
Fiction
Through Russian Snows by G. A. Henty
Unedited, unabridged, original format editions with original colored cover art, these Henty books reproduce the original in careful detail.... [More]
1800's
Middle
Historical
Fiction
With Cochrane The Dauntless by G. A. Henty
Unedited, unabridged, original format editions with original colored cover art, these Henty books reproduce the original in careful detail.... [More]
1800's
Middle
Historical
Fiction
On the Irrawaddy by G. A. Henty
Unedited, unabridged, original format editions with original colored cover art, these Henty books reproduce the original in careful detail.... [More]
1800's
Middle
Historical
Fiction
In the Hands of the Cave Dwellers by G. A. Henty
Many of the earliest books, particularly those dating back to the 1900s and before, are now extremely scarce and increasingly expensive. We... [More]
1800's
Middle
Historical
Fiction
The Treasure of the Incas by G. A. Henty
G A Henty was a 19th century novelist, special correspondent and Imperialist. His best-known works are historical adventures. Published... [More]
1800's
Middle
Historical
Fiction
With the British Legion by G. A. Henty
Unedited, unabridged, original format editions with original colored cover art, these Henty books reproduce the original in careful detail.... [More]
1800's
Middle
Historical
Fiction
To Herat and Cabul by G. A. Henty
Unedited, unabridged, original format editions with original colored cover art, these Henty books reproduce the original in careful detail.... [More]
1800's
Middle
Historical
Fiction
Through the Sikh War by G. A. Henty
Unedited, unabridged, original format editions with original colored cover art, these Henty books reproduce the original in careful detail.... [More]
1800's
Middle
Historical
Fiction
Out on the Pampas by G. A. Henty
Unedited, unabridged, original format editions with original colored cover art, these Henty books reproduce the original in careful detail.... [More]
1800's
Middle
Historical
Fiction
Jack Archer by G. A. Henty
Historical novel set in the Crimean War. [More]
1800's
Middle
Historical
Fiction
In Times of Peril by G. A. Henty
Very bright and pretty, in the early springtime of the year 1857, were the British cantonments of Sandynugghur. As in all other British... [More]
1800's
Middle
Historical
Fiction
A Final Reckoning by G. A. Henty
In this tale I have left the battlefields of history, and have writtena story of adventure in Australia, in the early days when the... [More]
1800's
Middle
Historical
Fiction
Out with Garibaldi by G. A. Henty
Unedited, unabridged, original format editions with original colored cover art, these Henty books reproduce the original in careful detail.... [More]
1800's
Middle
Historical
Fiction
The March to Magdala by G. A. Henty
Unedited, unabridged, original format editions with original colored cover art, these Henty books reproduce the original in careful detail.... [More]
1800's
Middle
Historical
Fiction
Maori and Settler by G. A. Henty
Unedited, unabridged, original format editions with original colored cover art, these Henty books reproduce the original in careful detail.... [More]
1800's
Middle
Historical
Fiction
The Young Franc-Tireurs by G. A. Henty
The story is laid in France and is, therefore, written from theFrench point of view. The names, places, and dates have beenchanged; but... [More]
1800's
Middle
Historical
Fiction
By Sheer Pluck by G. A. Henty
1800's
Middle
Historical
Fiction
The Young Colonists by G. A. Henty
Unedited, unabridged, original format editions with original colored cover art, these Henty books reproduce the original in careful detail.... [More]
1800's
Middle
Historical
Fiction
Sturdy and Strong by G. A. Henty
Unedited, unabridged, original format editions with original colored cover art, these Henty books reproduce the original in careful detail.... [More]
1800's
Middle
Historical
Fiction
Through Three Campaigns by G. A. Henty
George Alfred Henty (1832-1902), referred to as G. A. Henty, was a prolific English novelist, special correspondent, and Imperialist born... [More]
1800's
Middle
Historical
Fiction
With Buller in Natal by G. A. Henty
It will be a long time before the story of the late war can be written fully and impartially. Even among the narratives of those who... [More]
1800's
Middle
Historical
Fiction
With the Allies to Pekin by G. A. Henty
Unedited, unabridged, original format editions with original colored cover art, these Henty books reproduce the original in careful detail.... [More]
1800's
Middle
Historical
Fiction
Both Sides of the Border by G. A. Henty
The four opening years of the fifteenth century were among the most stirring in the history of England. [More]
Middle Ages
600-1300
Middle
Historical
Fiction
With Frederick the Great by G. A. Henty
George Alfred Henty (1832-1902), referred to as G. A. Henty, was a prolific English novelist, special correspondent, and Imperialist born... [More]
Discovery/
Colonial
Middle
Historical
Fiction
The March to Coomassie by G. A. Henty
Unedited, unabridged, original format editions with original colored cover art, these Henty books reproduce the original in careful detail.... [More]
1800's
Middle
Historical
Fiction
With Kitchner in the Soudan by G. A. Henty
1800's
Middle
Historical
Fiction
Boy Knight: A Tale of the Crusades by G. A. Henty
Readers have ringside seats to historical events as they follow an English lad to the Holy Land as part of King Richard's crusading army,... [More]
Middle Ages
600-1300
Middle
Historical
Fiction