High School Reading Lesson Plans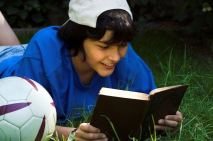 High school students may be labeled "teens" or "adolescents", but they are actually freshly minted, inexperienced adults. These new adult minds must be challenged with wonderful books - not pampered with games and toys. There's no substitute for wrestling with a great author's work in a classic book.
Though our modern age is saturated with images and noise, many studies have shown that these can never take the place of learning through reading. In fact, these media can be harmful if not carefully considered and consumed in moderate amounts.
Thankfully, our modern era also provides unprecedented access to the world's great books at affordable prices. Many are available online as well. Here are some suggested plans for engaging your young adult students. Every student has different interests, but surely each one can find several books on these lists that will bring hours of pleasure and aid the maturing mind.