Aleksandr Solzhenitsyn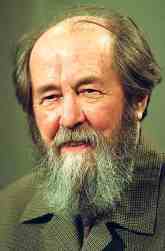 Aleksandr Solzhenitsyn (December 11, 1918 - August 3, 2008) Russian novelist, dramatist and historian. Through his writings, Solzhenitsyn made the world aware of the Gulag, the Soviet Union's labor camp system. He was exiled from the Soviet Union in 1974, returning to Russia in 1994.
During World War II, while serving in East Prussia, he was arrested for writing a derogatory comment in a letter to a friend, about the conduct of the war by Josef Stalin. Accused of anti-Soviet propaganda under the Soviet criminal code, Solzhenitsyn was taken to the Lubyanka prison in Moscow, beaten, and interrogated. A tribunal of Soviet security police sentenced him to eight years in a labor camp, followed by permanent internal exile. His experience at Ekibastuz in Kazakhstan formed the basis of the book One Day in the Life of Ivan Denisovich. Suffering from a tumor in 1953, Solzhenitsyn sentence was commuted to internal exile for life.
It was during this decade of imprisonment and exile that he abandoned Marxism and developed the philosophical and religious positions of his later life. He repented for his actions as a Red Army captain and in prison compared himself with the perpetrators of the Gulag: "I remember myself in my captain's shoulder boards and the forward march of my battery through East Prussia, enshrouded in fire, and I say: 'So were we any better?'" He describes his transformation in The Gulag Archipelago ("The Soul and Barbed Wire").
His manuscript of One Day in the Life of Ivan Denisovich was published in edited form in 1962. Nikita Khrushchev explicitly approved the book, defending its exposure of Stalinism, which Khrushchev wanted rooted out. The book, bringing the Soviet system of prison labor to the attention of the West, caused a sensation in the Soviet Union. Solzhenitsyn's story was a rare instance of free, unrestrained political discussion through literature. After Khrushchev was ousted in 1964, the era of such raw exposing works came quietly, but perceptibly, to a close.
Meanwhile Solzhenitsyn continued to secretly work upon the most subversive of all his writings, the monumental Gulag Archipelago - a three-volume work on the Soviet prison camp system. Based upon Solzhenitsyn's own experience as well as the testimony of 227 former prisoners, it discussed the system's origins from the very founding of the Communist regime, with Lenin himself responsible. It exposed details of interrogation procedures, prisoner transports, prison camp culture, prisoner uprisings and revolts, and the practice of internal exile. In the West, the book put the word gulag into the Western political vocabulary. For Solzhenitsyn, it guaranteed swift retribution from the Soviet rulers.
In 1974, Solzhenitsyn was deported from the Soviet Union and stripped of his citizenship. In 1990, his Soviet citizenship was restored, and in 1994 he returned to Russia. He deplored what he considered Russia's spiritual decline and increasing adoption of Western materialistic values. [Source: Wikipedia]
Title
Rank
Period
Level
Type

One Day in the Life of Ivan Denisovich by Aleksandr Solzhenitsyn
Solzhenitsyn's first book, this economical, relentless novel is one of the most forceful artistic indictments of political oppression in... [More]
Modern
1900-present
Secondary
& Adult
Literature,
Biography
The Gulag Archipelago by Aleksandr Solzhenitsyn
Drawing on his own incarceration and exile, as well as on evidence from more than 200 fellow prisoners and Soviet archives, Aleksandr I.... [More]
Modern
1900-present
Secondary
& Adult
General