Aristotle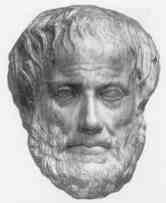 Aristotle (384 BC - 322 BC) together with Plato, and Socrates (Plato's teacher), is one of the most important figures in Western philosophy. He was the first to create a comprehensive system of Western philosophy, encompassing morality and aesthetics, logic and science, politics and metaphysics. His views on the physical sciences profoundly shaped medieval scholarship, and their influence extended well into the Renaissance, although they were ultimately replaced by modern physics. His works contain the earliest known formal study of logic. These were incorporated in the late nineteenth century into modern formal logic. In metaphysics, Aristotelianism had a profound influence on philosophical and theological thinking in the Islamic and Jewish traditions in the Middle Ages. It continues to influence Christian theology, especially Eastern Orthodox theology, and the scholastic tradition of the Roman Catholic Church. All aspects of Aristotle's philosophy are objects of active academic study today.
Aristotle was trained and educated as a member of the aristocracy. At age eighteen, he went to Athens to continue his education at Plato's Academy, remaining for nearly twenty years, until after Plato's death in 347 BC. He then traveled with Xenocrates to the court of Hermias of Atarneus in Asia Minor. After Hermias' death, Aristotle was invited by Philip of Macedon to tutor Philip's son - Alexander the Great. After several years tutoring the young Alexander, Aristotle returned to Athens. By 335 BC, he established his own school there, known as the Lyceum. For twelve years, Aristotle conducted courses and composed many of his works. The works that have survived are in treatise form and are generally considered to be lecture aids for his students. His most important treatises include Physics, Metaphysics, Nicomachean Ethics, Politics, De Anima (On the Soul) and Poetics.
In physical science, Aristotle studied anatomy, economics, astronomy, embryology, geology, geography, meteorology, physics and zoology. In philosophy, he wrote on aesthetics, ethics, rhetoric, government, metaphysics, politics, psychology and theology. He also studied education, foreign customs, literature and poetry. His combined works constitute a virtual encyclopedia of Greek knowledge. It has been suggested that Aristotle is probably the last person to know everything there was to be known in his own time.
Many believe that Aristotle's system of thought remains the most influential ever put together by any single mind. He single-handedly founded the sciences of Logic, Biology and Psychology. The influence of Aristotle's work was felt as the Lyceum grew into the Peripatetic school. Aristotle's notable students included Aristoxenus, Dicaearchus, Demetrius of Phalerum, Eudemos of Rhodes, Hephaestion, Harpalus, Meno, Mnason of Phocis, Nicomachus, and Theophrastus, as well as Alexander the Great. Aristotle is referred to as "The Philosopher" by medieval theologian Thomas Aquinas who blended Aristotelian philosophy with Christianity, bringing the thought of Ancient Greece into the Middle Ages. It required a repudiation of some Aristotelian principles for the sciences and the arts to free themselves for the discovery of modern scientific laws and empirical methods. [Source: Wikipedia]
Title
Rank
Period
Level
Type

Rhetoric by Aristotle
Focusing on the use of language as both a vehicle and a tool to shape persuasive argument, Aristotle delineates with remarkable insight... [More]
Classical
500BC-600AD
Secondary
& Adult
Philosophy &
Religion

Politics by Aristotle
Intellectually stimulating work describes the ideal state and ponders how it can bring about the most desirable life for its citizens. Both... [More]
Classical
500BC-600AD
Secondary
& Adult
Philosophy &
Religion

Poetics by Aristotle
After reading Aristotle's "Poetics," I felt a severe sense of shame for not having read it much, much sooner. As a student of literature,... [More]
Classical
500BC-600AD
Secondary
& Adult
Philosophy &
Religion

Metaphysics by Aristotle
A new translation of one of the cornerstones of Western philosophy. Always passionately interested in natural phenomena, Aristotle... [More]
Classical
500BC-600AD
Secondary
& Adult
Philosophy &
Religion