Sir Walter Scott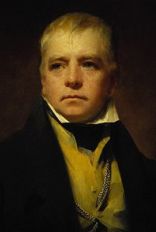 Sir Walter Scott, (15 August 1771 - 21 September 1832) was a prolific Scottish historical novelist and poet popular throughout Europe during his lifetime.
In some ways Scott was the first English-language author to have a truly international career during his lifetime, with many contemporary readers throughout Europe, Australia, and North America. His novels and poetry are still read. Many of his works remain classics of both English-language literature and of Scottish literature. Famous titles include Ivanhoe, Rob Roy, Waverley, The Lady of The Lake, The Heart of Midlothian and The Bride of Lammermoor.
Scott's first widely successful novel was Waverley. It was a tale of the Jacobite rising in the Kingdom of Great Britain with its English protagonist Edward Waverley. The novel met with considerable success. There followed a succession of novels over the next five years, each with a Scottish historical setting. Mindful of his reputation as a poet, Scott maintained the anonymous habit he had begun with Waverley, always publishing the novels under the name Author of Waverley or attributed as "Tales of..." with no author. During this time the nickname The Wizard of the North was popularly applied to the mysterious best-selling writer. His identity as the author of the novels was widely rumored, and in 1815 Scott was given the honour of dining with George, Prince Regent, who wanted to meet "the author of Waverley".
In 1819 he broke away from writing about Scotland with Ivanhoe, a historical romance set in 12th-century England. It too was a runaway success and, as with his first novel, he wrote several books along the same lines. Among other things, the book is noteworthy for having a very sympathetic Jewish major character. Rebecca, considered by many critics to be the book's real heroine - relevant to the fact that the book was published at a time when the struggle for the Emancipation of the Jews in England was growing.[Source: Wikipedia]
More: The
Walter Scott Digital Archive
at Edinburgh University
Title
Rank
Period
Level
Type

Ivanhoe by Sir Walter Scott
Published in 1819, this classic historical romance unfolds in a 12th-century kingdom torn asunder by the hatred between Saxons and Normans.... [More]
Middle Ages
600-1300
Middle
Literature

Talisman by Sir Walter Scott
"Of late, they have been chiefly restricted to the cure of persons bitten by mad dogs; and as the illness in such cases frequently arises... [More]
Middle Ages
600-1300
Secondary
& Adult
Literature

Kenilworth by Sir Walter Scott
No historian's Queen Elizabeth was ever so perfectly a woman as the fictitious Elizabeth of Kenilworth," wrote Thomas Hardy. Scott's... [More]
Renaissance/
Reformation
Secondary
& Adult
Literature

Rob Roy by Sir Walter Scott
This novel, first published in 1817, achieved a huge success and helped establish the historical novel as a literary form. In rich prose... [More]
Discovery/
Colonial
Secondary
& Adult
Literature