Elementary Reading Lesson Plan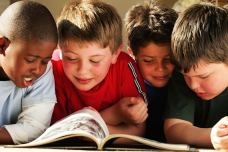 Since reading speed and comprehension varies so much from child to child, teaching elementary reading is a challenge. Some 7 year-olds may read at 5th grade level, while another the same age is struggling to sound out single syllable words.
Rather than sticking to a strict pre-grade plan, customize your book selections by level: Beginner, Capable, and Accomplished. These may typically correspond to K-1st, 2nd-3rd, and 4th-5th grades, but keeping these levels in mind, rather than grades, will improve your lesson planning.
Brand new readers will be motivated to read more on their own if you read to them often. They'll hear and understand much more than they can read themselves, which will encourage them to keep reading and expanding their vocabulary. Beginners should be included in read-aloud activities with the accomplished readers.
This website has powerful search technology to help you find the right book for your readers. Here are a few pre-set searches to find Elementary readers according to book type, as well as according to historical period. We also have specific book suggestion lists below, but remember these searches to find many more.
These are various lesson plans or Elementary Reader Suggested Books:

Group Reading/Read-Alouds

For Beginners

For Capable Readers

For Accomplished Readers